Details on the new fuel pump assembly can be found in the latest revision of Rotax Service Instruction SI-912-020/914-022 Revision 5.  Specific serial numbers of engines which have the new fuel pump already installed during manufacturing can be found in chapter 73-00-00, section 4.1 of the Service Instruction.  The Service Instruction document can be downloaded for all 912 series engines by clicking on the link below:
Some important considerations for this new style fuel pump assembly: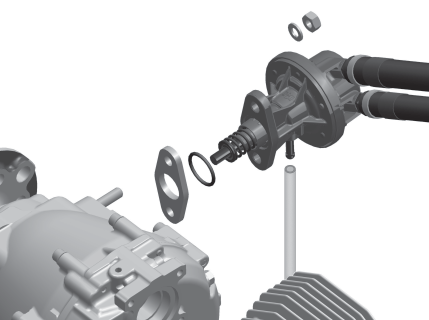 When installing the fuel pump, a new isolating flange (gasket) must be used.
In addition, the new fuel pump requires an o-ring (part # 631870) between the
fuel pump assembly and the isolating flange (part # 950228)


A "drainage line" must be attached to the bottom nipple fitting to accommodate
potential overflowing fuel / oil in the event of internal pump diaphragm or seal
failure. This drainage line must be routed to an appropriate area away from hot
engine parts etc.  It is important that the drainage line be routed to a ram air and
vacuum free zone, it must NOT be routed into the slipstream.  The drainage line
must have a continuous slope downward and must be protected from blockage
(e.g. formation of ice).


Maintenance requirements include inspection of the drainage line for damage
including blockage.


The fuel pump cover assembly is held on with 7 screws. This is for assembly
purposes only during manufacturing, the pump is not rebuild-able nor is it intended
that it be disassembled for maintenance.
For more information on parts availability, installation or maintenance, please contact your nearest Distributor, Service Center or Repair Center.