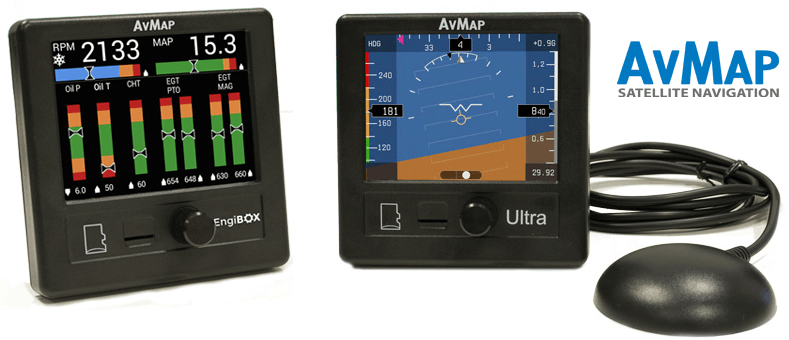 Our 2017 Giveaway...

We are giving away this mega-prize-pack:


AVMAP EngiBox + AVMAP Ultra EFIS !

 MONITOR YOUR ENGINE IN REAL-TIME!
With an update rate of five times per second, EngiBOX measures and displays the engine parameters to warn you instantly if any measurement exceeds the engine limits. 
Data is recorded and stored in the internal memory (up to 160 hours). 
EngiBOX is a light and compact engine monitor displaying:

Oil Temperature / Air Temperature

Revolutions per Minute (RPM)

Cylinder Head Temperature (CHT) / Coolant Temperature (CT)

Exhaust Gas Temperature (EGT)
Hobbs meter


EngiBOX is compatible with

2 Stroke Air cooled 
Rotax 447 UL SCDI
Rotax 503 UL DCDI

2 Stroke Liquid cooled 
Rotax 582 UL DCDI
Rotax 618 UL DCDI

4 Stroke Liquid cooled 
Rotax 912 DCDI series
Rotax 912S DCDI series
Rotax 914 DCDI series

BONUS: 
Our prize pack includes a sensor kit to suit the winner's engine!
 

 

9 Instruments in 1!

1. Altimeter

2. Airspeed Indicator

3. Artificial Horizon

4. Directional Gyro/HSI

5. Side Slip Indicator

6. Vertical Speed Indicator

7. Automatic Direction Finder with GPS

8. G-Meter

9. Magnetic Compass

Save space, weight and money.
Only 3.74" x 3.74",  Only 230 g (8.1 oz)

 

For full information on the EngiBOX, click here! 
    
For full information on the Ultra EFIS, click here!
One draw entry with each Subscription, renewal, or extension made during January 1st 2017 to December 31st, 2017. Winner will be drawn on January 3rd, 2018

Congratulations to the winner of our 2016 prize giveaway:
David Merritt of Idaho, USA.
David received our 2016 prize consisting of a CITIZEN NaviHawk EcoDrive pilot's watch. 
PREVIOUS GIVEAWAYS...
Our 2015 ROTAX toolkit prize pack
Our 2014 Garmin Pilot Giveaway
Our 2012, 2011, and 2010 Giveaways