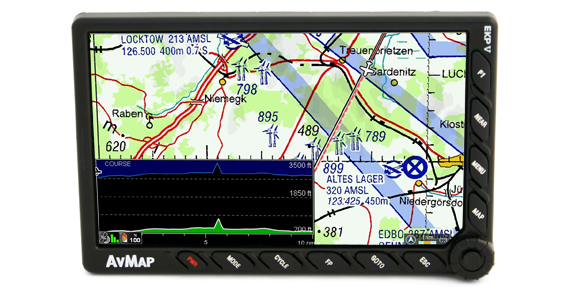 EKP V Multifunctional Display: the next step in the evolution of aeronautical GPS, redefining the role of the GPS inside the cockpit.
Panel mounted and Portable at the same time! 
EKP V has been designed to be both a panel-mounted and a portable device, thanks to the smart cockpit docking station. EKP V is slim and light, yet very powerful: a brilliant 7" display,  built-in battery and GPS receiver, and it's only 0.8" thick!

Advanced Connectivity
When used with the Docking Station,  EKP V can connect to several on-board devices at the same time (autopilot, weather, CAS,  video camera, AvMap A2 ADAHRS etc.) so that the large 7" LCD becomes a true multifunctional display and flight information system.
Fully Customizable
Easily change the layout choosing what to see and where to display it: maps, TAWS, Weather (optional), vertical profile on map, nav data, HSI, ADAHRS (optional). Set different PROFILES for different aircrafts with different settings for taws, selective display and even different hard keys configurations.


User Friendly
The new practical keyboard includes a configurable key, a  progressive joystick and a smart wheel selector.  Ease of use is ensured by the new graphic interface and the full qwerty virtual keyboard.


Approach Plates and Airport Diagrams
EKP V is preloaded with approach plates and diagrams of the airports of  United States, provided by  Seattle Avionics. 
Download your first free update from  www.seattleavionics.com/ekpV  
You can buy a subscription to Seattle Avionics data to receive 13 updates a Year (one every 28 days).
Complete maps
The cartography for AvMap aeronautical products includes information from several sources and data providers:
> Background  including Land elevation

> Aeronautical Database including Jeppesen data, Avioportolano, Letist Database

> Streets: Street Network and POI by NAVTEQ

> Airport Diagrams & Approach Plates By Seattle Avionics

> VFR sectional charts: by FAA  for United States.
---
Compatible services:

EKP V is compatible with RocketRoute flight planning service
Create Flight Plans on RocketRoute and export them on your AvMap EKP V! You can use the RocketRoute Flight Planning on the web or download the mobile apps (for iOS and Android).


Import Flight Plans from iFlightPlanner to the AvMap EKP V
Quickly and easily export flight routes planned using the iFlightPlanner.com Flight Wizard™ to your AvMap EKP V.  Create your iFlightPlanner Premium account at iFlightPlanner.com/AvMap to get started!
---
Cockpit Docking Station
The hub of your integrated avionics system
The EKP V Cockpit Docking Station allows the installation of AvMap EKP V Aeronautical Navigator into the cockpit panel, and enables the unit to interface to multiple external devices at the same time.
The Cockpit Docking Station includes 4 USB ports, 2 serial ports, Audio video input (NTSC and PAL), Audio output. The external GPS antenna is included in the box.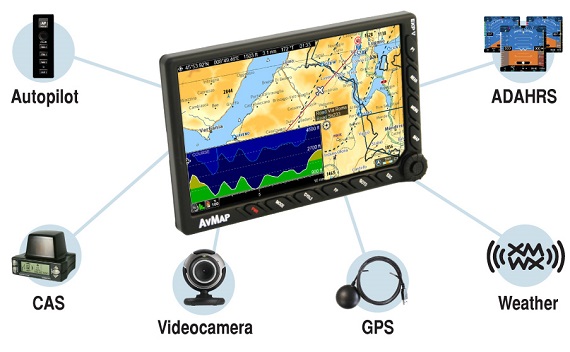 Multiple simultaneous connections
The Docking Station transforms the EKP V large 7" LCD into a true multifunctional display and flight information system. Create your AvMap Avionics System connecting instruments and accessories to EKP V:
GPS receiver

ADAHRS

Autopilot

Traffic Receiver

Video Cameras or enhanced vision systems

Weather receiver

Other instruments
One draw entry with each Subscription, renewal, or extension made during January 1st 2018 to December 31st, 2018. Winner will be drawn on January 4th, 2019

Congratulations to the winner of our 2017 prize giveaway:
David Heal of California, USA.
David has won our 2017 prize consisting of an AvMap EngiBOX and Ultra EFIS. 
PREVIOUS GIVEAWAYS...
Our 2016 NaviHawk pilot's watch Giveaway
Our 2015 ROTAX toolkit prize pack
Our 2014 Garmin Pilot Giveaway
Our 2012, 2011, and 2010 Giveaways