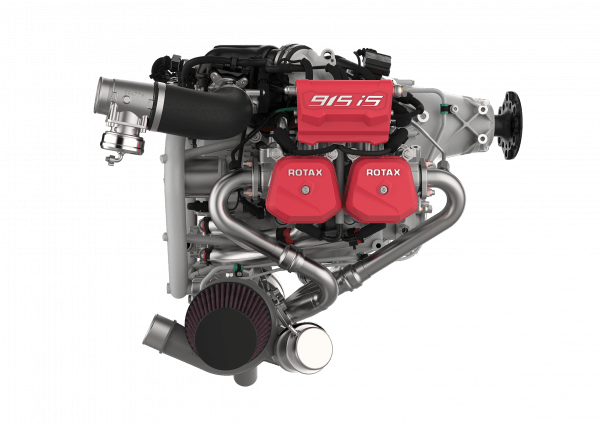 Rotax celebrates 100 years of dedication in its very own and special way with a limited edition of our popular Rotax 915 iS aircraft engines, designed for your heart and mind.
Limited Edition Package
Additionally, to the unique Rotax 100 years edition design we also offer an attractive package of services.
Each 100 year edition comes with the following benefits:
Service-Kits
• two boxes of 100 hours service-kits
• one box of a 200 hours service-kit, already included in the engine crate
Rotax Extended Service Terms (R.E.S.T.)
Additional Limited Extended Warranty under our R.E.S.T. program, which means additional coverage of 3 years or up to TBO (whatever comes first).
Rotax 100 years Merchandise Collection
The limited edition package also includes a voucher for the "100 years Rotax-Merchandise Collection".
Dynamic, turbocharged iS engine with best power-to-weight ratio, full take-off power and a service ceiling up to 23.000 feet. 
4-cylinder
4-stroke liquid/air-cooled engine with opposed cylinders
Dry sump forced lubrication with separate oil tank, 
automatic adjustment by hydraulic valve tappets
Redundant electronic fuel injection and ignition
Engine management system (EMS)
Electric starter (12 or 24 volt)
Propeller speed reduction gearbox
Air intake system with intercooler
Turbocharger with stainless steel exhaust
TBO (Time between overhauls) 1,200 hours