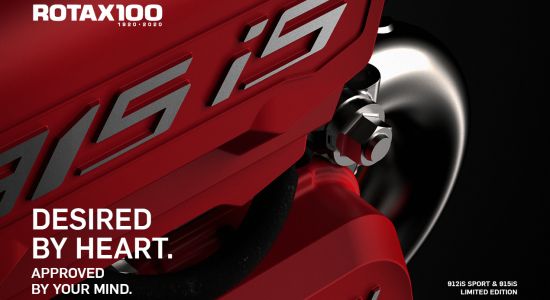 Gunskirchen, February 18, 2020 – At the Aero in Friedrichshafen BRP-Rotax is presenting an anniversary edition for the 100th anniversary of the company that is celebrated in 2020, which is available as a limited edition. Beyond that are also shown latest technologies for more ease of Service- and Maintenance work in the future.
The Aero in Friedrichshafen is one of the most important meeting places of the general aviation worldwide, with more than 600 exhibitors from 35 nations, and offers the perfect platform for the presentation of the latest product developments and for the communication with trade insiders, journalists and visitors.
In hall A3, stand 301, BRP-Rotax Aircraft is presenting its whole product range of aircraft engines with the focus on the injection technology which gains more and more popularity and the future opportunities of this technology. These contain the power-weight ratio, less fuel consumption, optimum combustion, less maintenance as well as EMS and ECU technologies.
With the 100 year anniversary, BRP-Rotax will present a special designed anniversary model of the 912iS and 915iS which are available in a limited edition, with an exceptional service package. Visitors are warmly welcomed to scrutinize the engines on our exhibition area and receive information about the special features through our qualified personnel.
Moreover, you are invited to discover the VR-studio at our exhibition area, where you can examine our engines in detail and have a descriptive view of the possibilities of virtual technologies in the future. With an enhancement of technical trainings as well as the simulation of maintenance procedures.
"We proudly look back at the last 100 years of our company history and we look forward to the challenges of the future. We do not rest on our laurels of the past but we will enrich the market with latest technologies and new products," so Peter Oelsinger, General Manager BRP-Rotax / Member of the Management Board, Vice President Sales, Marketing RPS-Business & Communications. "Our highlight at the Aero is the presentation of our anniversary model and latest VR-technologies. We are well prepared for the next 100 years."
With more than 190.000 engines sold and a global operating 4-stroke-fleet of more than 50.000 engines, Rotax aircraft engines lead the light sport and ultralight aircraft market. Rotax offers a worldwide network consisting of 17 authorized distributors and more than 220 points of sales and service supporting 270 OEMs with more than 400 Rotax powered models and customers worldwide. Therefore, Rotax aircraft engines are supplied to more than 80% of all aircraft manufacturer in its segment.
About BRP-Rotax:
BRP-Rotax GmbH & Co KG, a subsidiary of BRP Inc., located in Gunskirchen, Austria is a leader in the development and production of innovative 4- and 2-stroke high performance Rotax engines for BRP products such as Ski-Doo and Lynx snowmobiles, Sea-Doo watercraft, Can-Am all-terrain, side-by-side vehicles and Can-Am Spyder lineup as well for motorcycles, karts, ultra-light and light aircraft. In the last 50 years, the company has developed more than 350 engine models for recreational vehicles and produced over 9 million engines.

About BRP
We are a global leader in the world of powersports vehicles and propulsion systems, built on over 75 years of ingenuity and intensive consumer focus. Our portfolio of industry-leading and distinctive products includes Ski-Doo and Lynx snowmobiles, Sea-Doo watercraft, Can-Am on- and off-road vehicles, Alumacraft and Manitou boats, Evinrude and Rotax marine propulsion systems, as well as Rotax engines for karts, motorcycles and recreational aircraft. We support our lines of product with a dedicated parts, accessories and clothing business to fully enhance your riding experience. With annual sales of CA$5.2 billion from over 120 countries, our global workforce is made up of around 12,500 driven, resourceful people.
Ski-Doo, Lynx, Sea-Doo, Evinrude, Rotax, Can-Am, Manitou, Alumacraft and the BRP logo are trademarks of Bombardier Recreational Products Inc. or its affiliates. All other trademarks are the property of their respective owners.
For more information:
Nathalie Palmetshofer
Strategic Marketing & Communications
Rotax Propulsion Systems
Tel. +43.7246.601.3208
nathalie.palmetshofer@brp.com