Our 2022 mega-prize-pack, courtesy of AVMAP, FLYBOX, Leading Edge Air Foils, and Rotech Motor Ltd
includes the following prizes:
AVMAP EKP V MULTIFUNCTIONAL DISPLAY!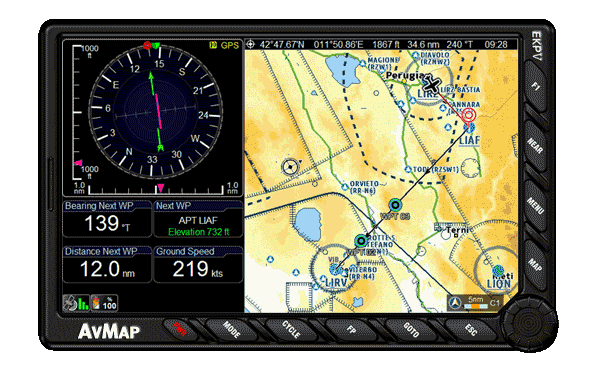 Panel mounted and portable at the same time!
Even when cockpit-installed, it is always possible to remove the EKP V from the plane to use it with the internal rechargeable battery for updates, flight  planning or training school debriefing.

You can choose between: Cockpit Docking Station or Cockpit Cradle Kit


Light and compact
A brilliant 7" display, with removable battery and built-in GPS receiver, with a weight of just  14.1 Oz, covering an area of only 4.3" x 6.8" and only 0.8" thick!

Horizontal or vertical? Fully customizable!
You can choose the Horizontal or Vertical orientation. You are able to choose what to see and where to display it. You can even set different aircraft profiles and configure the F1 key with your preferences.
Advanced Navigation Technology
A comprehensive software, the result of 30 years of Moving Map and Navigation Technology Know-How. Navigation, Electronic Flight Bag, Primary Flight Display: all you need in a single device, developed with safety in mind.
AvMap Software provides advanced planning functions, great situational awareness, and useful shortcuts in case of emergency.
Much more than a moving map: a true Multifunctional Display!
Through the Cockpit Docking Station, the EKP V can connect to: AvMap A2 ADAHRS, autopilot, weather receiver, CAS, video camera and other instrument, to create a complete flight information system.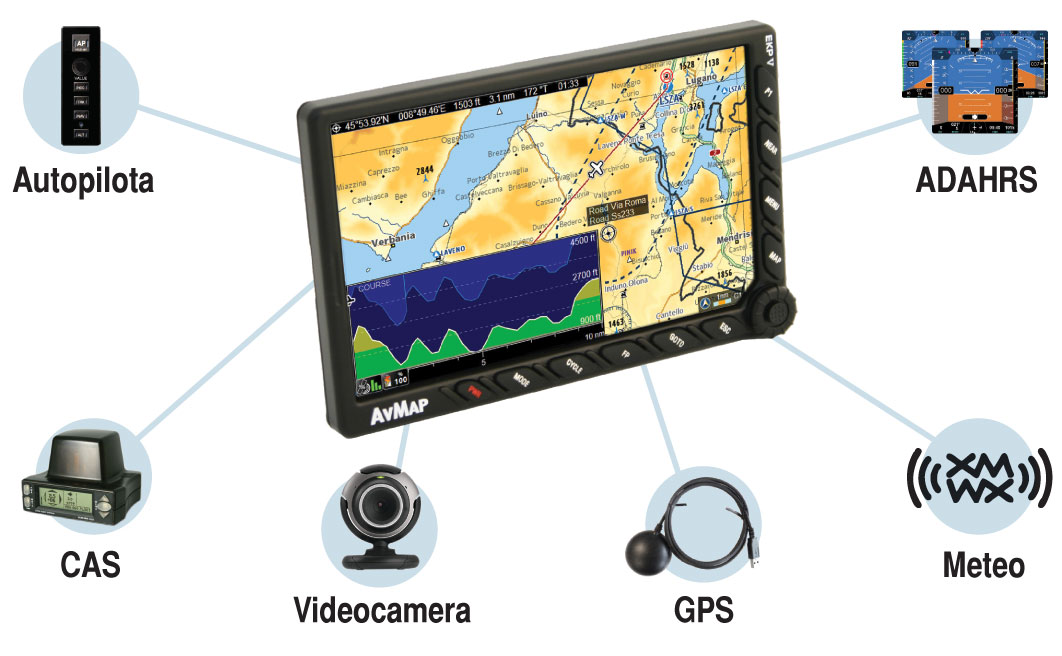 Our 2022 winner will receive an EKP V  Multifunctional Display!
---
---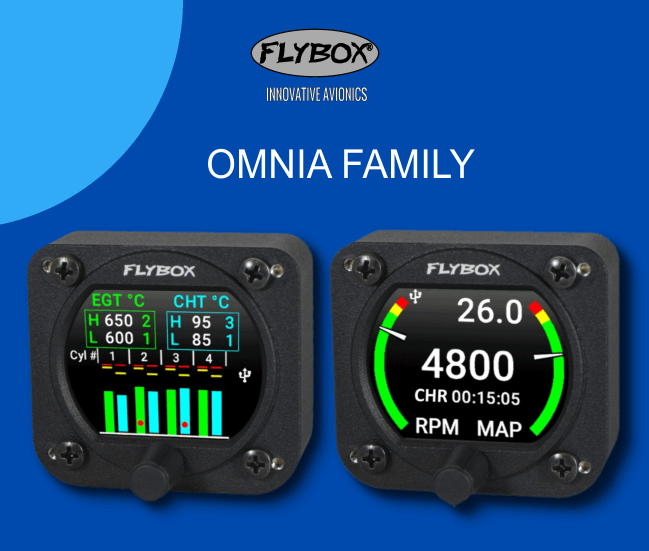 The Omnia line is a whole family of instruments created to upgrade the old legacy avionics, introducing plenty of new features for an easier and safer flight experience.
New high brightness, state of the art sunlight readable TFT screen.
· measures exhaust gas temperature and cylinder head temperatures up to 4 cylinders.

· Combines up to 8 separate indicators that can be individually enabled.

Compatibility:
All Rotax engines, including the "i series". Any K and J thermocouple from the market can be used.

 

multifunction engine tachometer;
4 Hobbs meters;
chronometer;
automatic flight timer;
last flight RPM peak;
max RPM peak ever;
MAP indicator.

Compatibility:
Can be connected to all Rotax engines, including the "i series", through the CAN bus.


All the Omnia family instruments:
Are fully customisable to fit the vast majority of existing engines.
Have a highly visible display in sunlight.
Have a powerful 32 bit microcontroller and the latest generation of solid state sensors and components to ensure reliability and accuracy over time.
Are available in 57 mm and 80 mm formats.

Up to 16 Omnia family instruments can be connected in cluster thanks to a double CAN-bus communication port, that allows to form a communication network, making data exchange operations simpler. USB connection allows an easy software upgrade and remote diagnostic."
Our 2022 winner will receive one 57mm RPM-MAP instrument, and one 57mm CHT-EGT instrument (4x4)!

CLICK HERE FOR COMPLETE INFORMATION ON THE FLYBOX OMNIA SERIES
---
---
Leading Edge Air Foils GIFT CERTIFICATE:



About Leading Edge Air Foils: 
Our mission is to help our customers enjoy the sport of flying by providing parts and services to Ultralight, Light Sport Aircraft and Experimental Aircraft Owners at competitive prices in a fast, efficient and professional manner. We have done so for over 40 years and hope to grow with this rapidly changing industry.
LEAF continues to be an independent Service Centre for ROTAX engines and we have experienced technicians available for service and overhaul work on all ROTAX two and four stroke aircraft engines. We maintain a substantial inventory of ROTAX engines and spare parts in addition to many other LSA ultralight parts. You will find that we carry most of what a pilot or mechanic would need to care for their aircraft.


Our goal is to be your preferred supplier of parts and services for your aircraft needs and we hope you will join our substantial list of satisfied and loyal customers.
.Our 2022 winner will receive a Leading Edge Air Foils Gift Certificate!



CLICK HERE TO VISIT LEADING EDGE AIR FOILS
---
---
Our 2022 winner will also receive this:
 ROTAX SWAG: "Ultimate Power" backpack, and limited edition collector's ball cap. ROTAX mechandise provided by ROTECH MOTOR LTD. 
ROTECH MOTOR LTD. is the authorized Canadian distributor of ROTAX aircraft engines and the North and South American distributor for the certified ROTAX aircraft engines.
One draw entry with each Subscription, renewal, or extension made during January 1st 2022 to December 31st, 2022. Winner will be drawn FEBRUARY, 2023

Congratulations to the winner of our 2021 prize giveaway:
(Andrius Navickas of Lithuania!)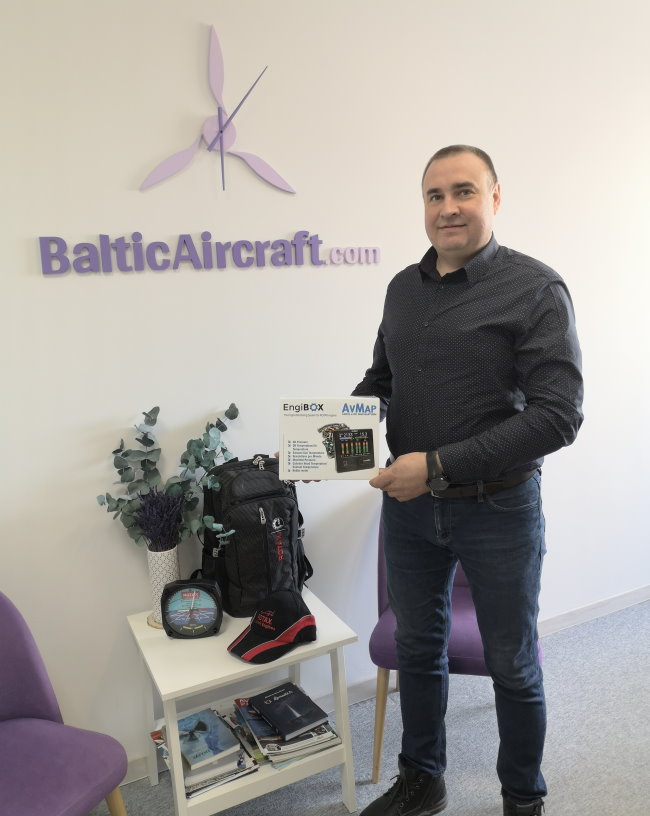 Andrius received our 2021 prize courtesy of

AVMAP, Aircraft Spruce, and RotacRepair.ca
PREVIOUS GIVEAWAYS...


Our 2020 AVMAP Ultra EFIS Giveaway 

Our 2019 AVMAP EngiBOX and AVMAP EGT Probes Giveaway 

Our 2018 AVMAP EKP V and Cockpit Docking Station 

Our 2017 AVMAP EngiBOX and Ultra EFIS Giveaway 
Our 2016 NaviHawk pilot's watch Giveaway
Our 2015 ROTAX toolkit prize pack
Our 2014 Garmin Pilot Giveaway
Our 2012, 2011, and 2010 Giveaways