The ROTAX-OWNER.COM mail system sends you two kinds of emails:
1) Bulletin mailer releases: these include all ROTAX critical-to-safety Alert Service Bulletins, Service Bulletins, Service Instructions, Service Letters, and any other ROTAX factory notices.
2) ROTAX-OWNER 'website emails': these include alerts when a new reply is posted in a Forum thread you are following, system emails you might generate yourself (like a password reset, or username reminder), subscription renewal notices, etc.
One thing we have noticed is that not all email receiving systems are created equally. Many have become extremely over-zealous in their "spam-prevention", mistakenly marking almost any email as spam, and either bouncing it back, hiding it in your SPAM or JUNK olders, or (even worse) silently deleting it.
We advise every ROTAX-OWNER user to "white-list" our emails, which in most cases will prevent them from going astray. (Click this link for more information)
However, despite this, we have found that we are still getting a few "email bounce backs" from the email systems of our valued members.
We have discovered that these undelivered emails  are usually caused by either: 
A) "MAILBOX FULL" errors
B) "Email Address doesn't exist" errors
C) "Message refused as SPAM" errors. 
The "refused as SPAM" errors generally go away once our email address info@rotaxowner.com has been "WHITELISTED" .
But the other two kinds of errors are very often caused by a CHANGE of email: you changed your email and didn't let us know your NEW address. (Often the "mailbox full" error comes from an email that was abandoned months before, and is never checked anymore!).
This is a real problem - we know you aren't getting the emails you need, but since you are not receiving EMAILS at the address that we have on file for you - we have no way to contact you via email, to let you know! 
To help remedy this, we have set up an internal "admin message system".

If we discover that our emails to your registered email address with us are BOUNCING BACK, our system administrator will send you an internal message: a message window that will pop up and alert you as soon as you next log in to the website: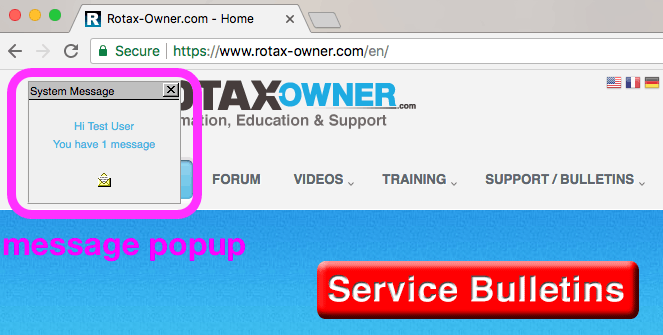 The "Admin Message" will keep popping up until you open it to acknowledge - after which time it will go away.
We're sorry to have to nag you relentlessly, but really it is important that you do not miss a critical-to-safety Service Bulletin. Accordingly, we have set up this alert system!
As long as our emails are getting through to you OK, you will never see this internal messaging system.
But if we detect that our emails are bouncing back, you will get the pop-up. It will fade away in a few seconds, but will re-appear again on every page that you visit.
As well as the pop-up, if you have an unread message waiting from our site administrator, you will also see a new "Private Messages" box appearing just beneath the Social Media links: 

Some or all of the message text will appear there, but in order to make the box (and the recurring pop-ups) disappear, you will have to acknowledge the message by clicking on it to open it up.
(You can click on it in the "Private Messages" box, or in the pop-up itself. ) 
Once you open the mailbox, you will see the message: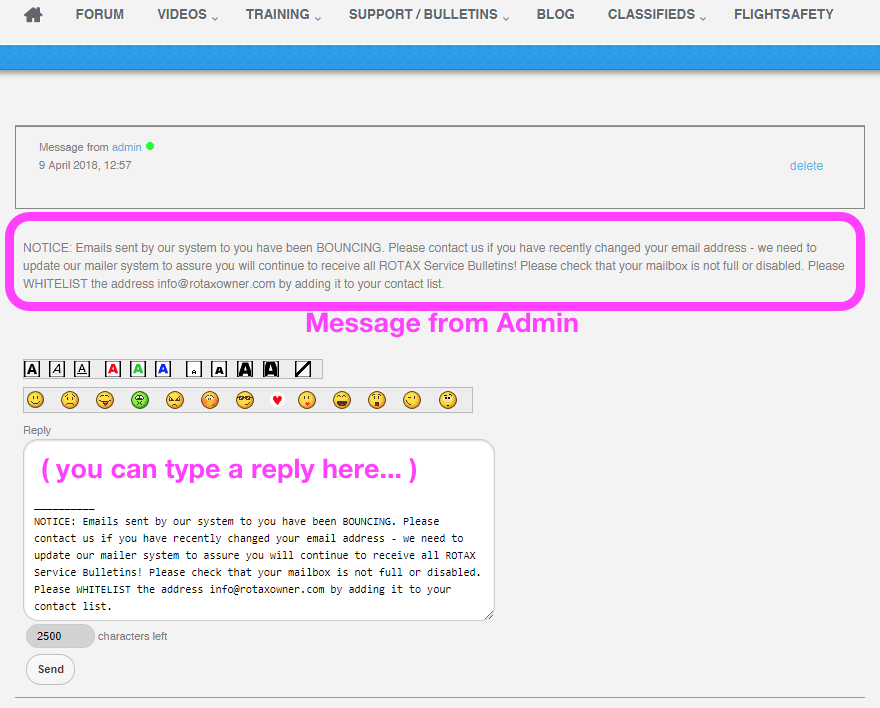 Let us know your best current working email address  by typing a message in the space (along with any other comments you may have)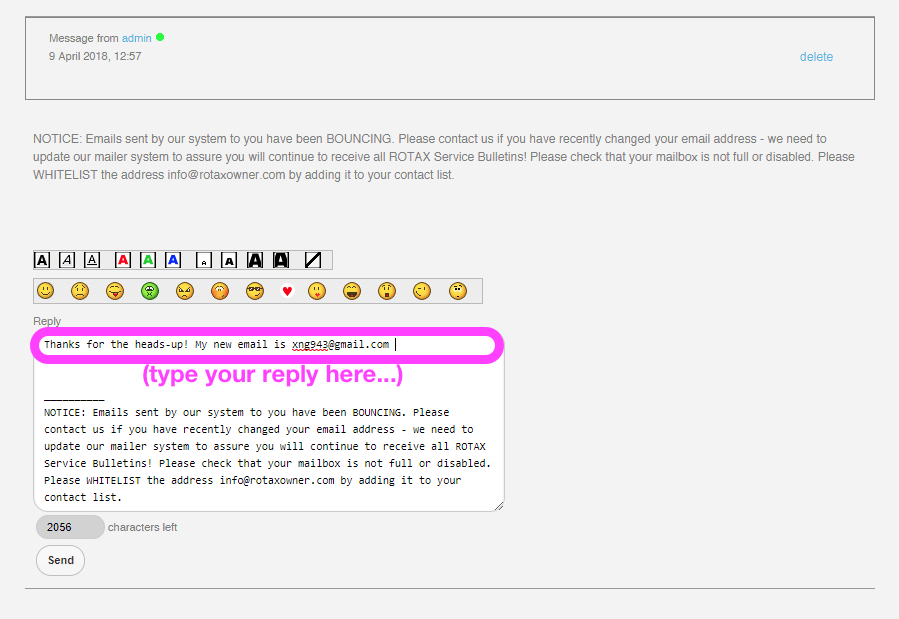 After you provide your current email address, just press the Send button: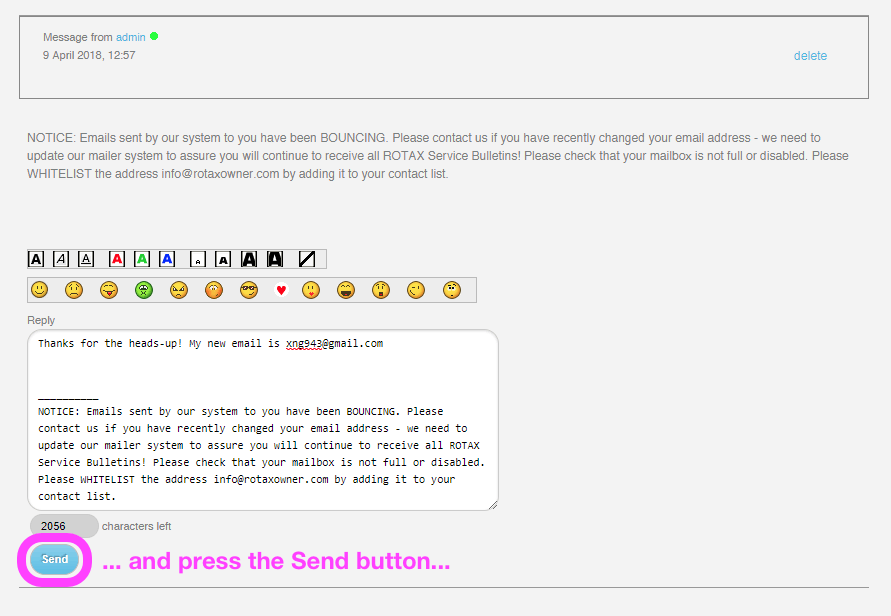 If you are not sure at the moment, and need to verify which of your emails is best to register with us, just click on the "Home" Button, or any other site link to close this message page.
Later, after the 'unread message' alerts  have disappeared, you can find and reply the admin message by visiting your "My Profile" link (in the black bar at the bottom of every page) and clicking on the Inbox tab:
If you accidentally deleted the message before you could reply, no problem - just email us your current information, and we'll get it updated for you.
Remember: In all cases, be sure that you have WHITELISTED our email address info@rotaxowner.com in your current mail system. (Click this link for more information)
Once you have opened the System Message from our site administrator, the popups will stop and the Private Messages box will disappear from under the Social Media buttons.
Unless our emails to you start bouncing back again...